Tourist arrival numbers struggle in Nov
Tourist arrivals rose marginally by 0.2% in November this year compared to the same period last year, surpassing 1.8 million arrivals for the year, data released yesterday by the Sri Lanka Tourism Development Authority (SLTDA) revealed.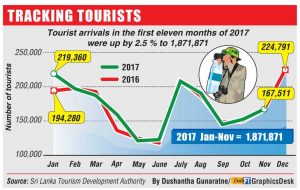 Nearly 1.8 million tourists arrived in Sri Lanka last year contributing $ 2.86 billion in earnings to the Government. Sri Lanka's Tourism Authority has set a target of 2.5 million tourist arrivals this year.
http://www.ft.lk/front-page/Tourist-arrival-numbers-struggle-in-Nov-/44-644876