Growing interest working with Sri Lanka from Swedish companies – Business Council meets in Colombo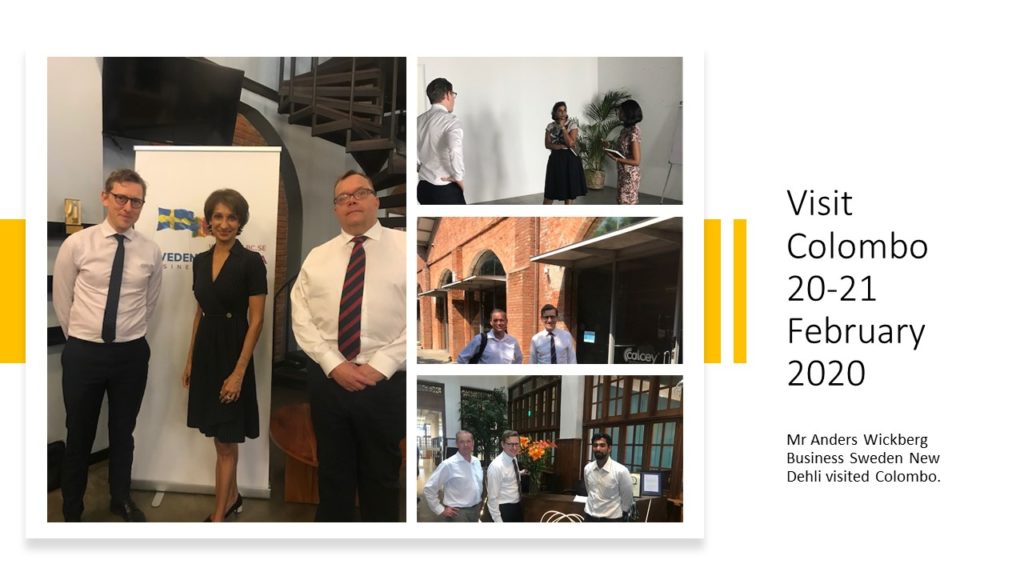 Sweden-Sri Lanka Business Council (www.sslbc.se) hosted a visit (20-21 February) by the Trade Secretary Anders Wickberg from the Swedish Embassy in New Dehli.
The purpose of the visit was to get the newly appointed Trade Secretary acquainted with Sri Lanka and also meet Swedish and Sri Lankan companies with an interest of expanding the business between the two countries.
The visit included a visit to Trace City, Hatch incubator and Colombo Innovation Tower.
"Sweden being one of the most innovative countries in the world and with many start-ups and unicorns, plus that there are many Swedish companies who benefit from the Sri Lankan talent in the IT-field, these three stops are mandatory" says Leif I Ohlson (Secretary General for the business council).
On Friday SSLBC had invited the Trade Secretary Wickberg together with Sweden's Honorary Consul General Otara Gunewardane to meet member companies. Therefore, hosted by council member mr Alexander Löwbäck (ikman.lk) some 25 people from Swedish and Sri Lankan members of the council had the opportunity to meet Mr Wickberg. Several various issues were raised all from investment climate in Sri Lanka to business visa procedures to Sweden and others which are a concern for the members. Mr Wickberg could inform about his work and Swedish priorities but also how the Swedish government export credit system works and can be of benefit for Sri Lanka exporters.
Secretary General Leif Ohlson ended the meeting with saying that "Sweden Is past, present and future partner to Sri Lanka. The visit by Mr Wickberg encourages both Swedish and Sri Lankan companies to work even harder for more investments and trade between the two countries."
More information:
Secretary General Leif I Ohlson
077 071 66 52